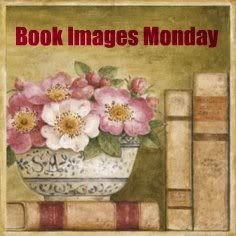 Cindy's Book Club
Cindy over at Cindy's Book Club is hosting a weekly meme called Bookish Images Monday. Such a fun meme I just had to participate.
I'd love for you to participate in Bookish Images Monday.
Remember, you do NOT have to post a ton of images--one will be fine if that's all you want to do!

(I just tend to go a little crazy.)
They can just be

interesting

or

pretty book covers

if you want. Or just

pictures of books, bookcases, libraries or bookstores.

Or they can be

humorous

, or

vintage

, or related to

movies based on books

. They just need to be book-related in some way.
This week's musing hosted by Miz B at
Should Be Reading a
sks…
If you were (are) going on vacation, what books would you take with you?
I normally only take two books with me, the current one I am reading (which right now is "The Midwife's Confession, by Diane Chamberlain) and the other one would have to be very light and fun reading (maybe Barbara Delinsky's "Friends & Lovers," which is 2 books in 1) Yes that sounds right to me. What could be more fun than reading about Friends & Lovers...
I find when I'm vacationing I don't get much reading done. Since my husband is not a reader of books, he likes to be busy sightseeing, visiting with family and friends, (no lovers) and eating out which we both love and it shows. Therefore, that doesn't leave much time for me to be reading.
So how about you, what do you like to pack for reading on your vacation?