No, I am not a new Tabloid Reporter, but it is a feature so
that we can all get to know each other better.
T

his feature will be open from Thursday at 12:01 A.M. and
close on Monday at 11:59 P.M. to allow those that
want to participate over the weekend the opportunity
to do so when they have more time. So you may
want to check back on Tuesday or check the previous
week's link on Thursday to view everyone's answers.
WEEK 24 QUESTIONS
1. Did you watch the Super Bowl? If yes,
which part did you like the best, the
game, the halftime show, the commercials
and did you notice the mistake made with
No I didn't watch the Super Bowl, instead,
I read a good book. I heard all about it the
mistake on all the talk shows.
2. I joined a new meme this week called
"Monday's Music Moves Me", this month's
theme is love songs, Do you have a favorite
Yes, I played along with this meme and
posted my favorite love song on Monday.
It was Twilight Time, by the Platters.
3. How many blog challenges have you
I have only entered 2 so far, but,
March 1, 2011-February 28, 2012,
I am thinking about entering.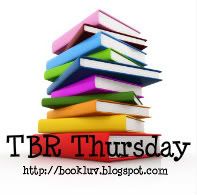 TBR Thursday is a weekly post hosted by Book Love Blog where we announce the books in all forms and from all sources that we received/bought/picked up to read. Leave a link to your TBR in comments..
The book I brought this week was "Homer's Odyssey", by Gwen Cooper.
It is a book about: A Fearless Feline Tale, or How I Learned About Love
and Life with a Blind Wonder Cat. It is the true story about Homer, the blind cat.
Library Journal had this to say about "Homer's Odyssey" "Delightful...This lovely human-feline memoir, following in the footsteps of Vicki Myron's best-selling Dewey: The Small-Town
Library Cat Who Touched the World, is sure to warm the hearts of all pet lovers."