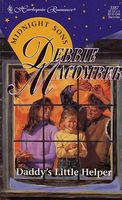 Hard Luck, Alaska -- a town that needs women
Location: 50 miles north of the Arctic Circle. Population: 150--mostly men--but growing! Because the O'Halloran brothers, who run a bush-plane service called Midnight Sons, are heading a campaign to bring women to Hard Luck.
Mitch Harris--A good friend of the O'Hallorans, he represents law and order in Hard Luck. He's also the widowed father of seven-year-old Chrissie--but he never talks about his marriage to Chrissie's mother.
Bethany Ross--Chrissie's teacher, who's new to Alaska. She's attracted to Mitch--really attracted--but she's come here for an important reason of her own....
As Christmas comes to Hard Luck, Mitch's daughter redoubles her efforts to find a new wife for her dad--and a new mother for her. And she's got Bethany in mind for both roles!
My Viewpoint: I never go wrong when I read a Debbie Macomber book. I always enjoy Debbie Macomber books, she is one of my favorite authors. So today, while the rest of the country was watching football, I curled up with my comfort food, and read a comfort food book. It was a delightfully fun, and a quick book to read...I liked it and gave it 4****.
I own this book. It was also one of the books for "My Romance Reading Challenge for 2011."