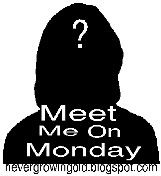 Questions:
1. What is your favorite kind of pie?
My favorite kind of pie is....CHERRY.
2. Have you ever ran out of gas in the car you were driving?
Yes, many times, but, it was always because the kids had left the car on empty, and I was the next to use it. Therefore, I am always checking to make sure I have a half a tank of gas when I leave the house.
3. How many languages do you speak?
I only speak one language, English, and baby talk.
4. Do you take daily vitamins?
Yes, I take my daily vitamins each day.
5. What is your worst eating habit?
Being a Lifetime Weight Watcher member, I know the correct eating habits. Therefore, I would have to say my worst eating habit is.... no matter how hard I try, I always manage to drop food on my blouse. And a lot of the time it is the last bite I'm taking somehow, a bit of it falls off my fork and down my front. It's a running joke at my house... ; )
Meet Me On Monday is hosted by Java at Never Growing Old.