Every Sunday Never Growing Old posts five
get to know you
questions that you can copy and paste into your own Monday post and we can all learn a little more about each and every one of us!!
"Its a great way to to meet new friends and for others to get to know me better....one Monday at a time!!!"
....as quoted by
the Chacogirl!!
I will make this SIMPLE and FUN!!!
I will add a linky so we can follow who participates and get to know them better!! Be sure to link the POST and not just your whole blog.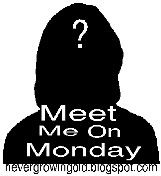 Questions:
1. Do your pants get hung on a hangar or folded?
I have to admit it, I am a hanger snob. My pants have to be hung on hangars.
2. If you are stranded on an Island, what 3 things would you need to have with you (not including humans or electronic devices)?
3. Where is the farthest you have ever traveled to?
4. Do you live in a house, trailer, or apartment, etc.?
I live in this house, which is two apartments. This was taken last winter, and I live in the side with the sun porch.
5. What is your most hated household chore?
I think this is everyones most hated household chore, cleaning the bathroom!